Buying a pot
Pots featured in the Products section are available for sale or can be made to order. To enquire about a purchasing a pot, please contact Judith via email or visit Judith's online Etsy Shop.
Pots in the 'Gallery' show examples of previous work in garden or interior locations.
You can also visit an exhibition, show or gallery at which Judith's work is being shown (see the 'Shows and Exhibitions' page for more details).
Delivery and shipping
UK deliveries are normally carried out by a reliable local courier and costs will vary according to distance. Although an approximate figure within the UK is about £55.
Customers are welcome to make an appointment to collect their pots if they prefer.
Worldwide shipping is also available through Judith's agent.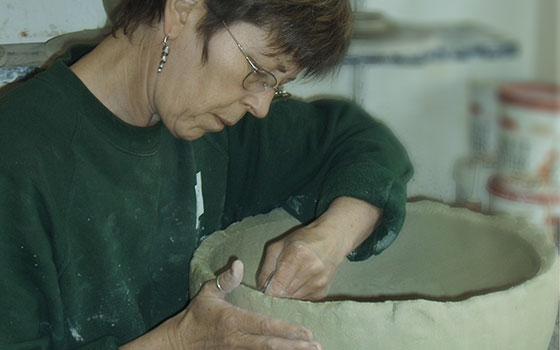 Commissioning a pot
If you prefer you can commission a pot by contacting Judith. She will discuss with you your requirements for size, shape, colour, design and intended location.
From this conversation Judith will produce a working sketch and a price. If you wish to progress from this point she will need a 25% deposit before starting the piece. On completion of the item you will be invoiced for the remaining amount.